CTV Morning Live: Mortgage Minute- November 20, 2018
Date Posted: November 21, 2018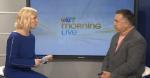 Two years after the introduction of the initial stress test, there are things that can help you qualify for a mortgage.
There is a link between your credit score and your mortgage rate. Always ensure your payments are made on time and if at all possible that the credit product is paid of entirely each month. Try and make all payments 3-4 days prior to the due date to avoid any delays. If you have a balance on a credit card close to the limit, this will impact your credit score.
When it comes to your employment and income, there are programs for self-employed borrowers who use write offs to off-set their income. For salaried employees, a letter of employment and paystub will show exactly how much money you are making.
To watch the full clip from CTV, click here.
For more information about your personal scenario please contact your Mortgage Broker.