Open House - The Real Estate & Mortgage Show: March 20th, 2023
Date Posted: March 20, 2023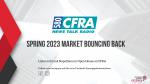 With the latest announcement from Bank of Canada stating they were keeping the overnight right the same – we can only predict that rates will slowly start to come back down over the next year.
The market has already begun to change in terms of house prices, number of houses on the market and of course interest rates. We are now seeing some buyers enter the market despite the still high rates, but planning for them to come down in the next year or two.
All points to good news in the market, which is news we have been waiting quite some time for now.
To listen to the full episode, click here.
Contact your Mortgage Broker today for trusted advice.