Open House - The Real Estate & Mortgage Show: April 17th, 2021
Date Posted: April 17, 2021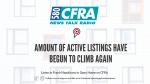 The housing market in Ottawa is now stronger year-over-year than in 2019, as we enter the latest phase of reopening during Covid-19. As we start to move into the fall many lenders are still offering historically low interest rates at Mortgage Brokers Ottawa.
The tight housing supply and historically low interest rates continue to drive bidding wars for properties in Ottawa. Listings are climbing once again, sitting at almost 1500 active listings in the city. It is hard to predict what will happen during the current state of shutdown/lockdown.
The fixed interest rate market continues to be at all-time lows, as well as variable interest rates. Variable interest rates are low and likely to remain low for quite some time. As such, it is a great time to reach out to your Mortgage Broker and secure a mortgage Pre-Approval. By locking in an interest rate for 120 days you are securing a rate in this low rate environment.
Having a trusted Realtor and Mortgage Broker during these fast-changing times is essential in making informed decisions.
To hear the full podcast; click here:
Contact your Mortgage Broker today for trusted advice