National Vacancy Rate Falls Below Average of Last 10 Years- CMHC
Date Posted: November 29, 2018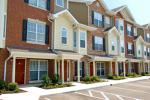 Throughout the 2018, Canada has experienced increases in immigration and youth employment, which, along with an aging population, saw more demand in the rental housing markets. As a result to the outpaced growth and limited supply, the overall vacancy rates for rental apartments fell to 2.4%.
As highlighted in the 2018 Canada Mortgage and Housing Corporation (CMHC) Rental Market Report (RMR), the demand outpaced the supply for purpose-built rental apartment units. While vacancy rates fell in Quebec, Alberta, Saskatchewan, and the Atlantic region, rates rose slightly in Ontario, British Colombia and Manitoba. The average rent across Canada is up 3.4% to $987.
To read the full Rental Market Report from CMHC, click here.
Thinking of investing in rental investment properties? Contact your Mortgage Broker today.