Mortgage Minute: Your Questions Answered
Date Posted: March 21, 2023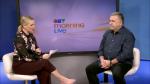 Q: The Bank of Canada is expected to finally pause interest rate hikes this week. How long will they pause for, and will we see fixed rates start to come down?
A: It's a great question. And finally, I think tomorrow morning we're going to hear Tiff Macklem say he's pausing the increases to prime rate. I think it'll feel very good for first time homebuyers who have been sitting on the sidelines because, again, they're concerned about interest rates continually going up. We've seen that the home prices have come down. Do I think fixed rates are going to come down? I think it's a gradual decrease. The fixed rates because of the strong labor numbers that we've seen over the last two months. We've seen the bond markets tick up a little bit, which means fixed rates haven't started coming down yet. The reports come out in the next week or two and then by then if the labor reports come in back to normal, then I think we'll start to see the fixed rates come down.
Q: We had to file for a consumer proposal two years ago and have another two years left to pay it off. With growth of equity in our home, we'd like to borrow to pay it off early. Our current mortgage with our bank is at a very good rate and they have declined us for additional funds. What other options do we have?
A: Yeah, so normal that the bank would turn it down, because banks are very they don't take that risk very well. If there's a consumer proposal or a bankruptcy, they usually don't lend any money out. But there are options a little more expensive. But what you need to understand what a lot of clients need to understand is that what you want to do is if you can pay off that consumer proposal, then suddenly you get discharged. And the rule of thumb is that if you go two years of discharge, then you're able to borrow again.
Q: My husband is a salaried employee, but I've been self-employed for just over a year but in the same field of work for five years. My bank tells me that we don't qualify for a mortgage unless I have a full two years of being self-employed. And there are, are there any other options available if I want to buy a house sooner?
A: I say the same thing to a lot of clients. Just because one bank says no doesn't mean another bank or another lender says no. They have different ways of looking at employment, such as self-employed, especially if you're in the same industry and you've decided to go as an independent contractor instead of a salaried employer. So, what some lenders will do is they'll ask you for six months bank statements just to show the income continually coming in. And if that's the case, then they'll make that exception on that employment. And you don't have to wait until your year or two full years of self-employed.
For more information, reach out to a Mortgage Broker today!
To watch the full CTV Morning Live segment with Frank Napolitano; click here