Millennials' shift to the suburbs will drive up Canadian home prices next year, Royal LePage says
Date Posted: December 13, 2019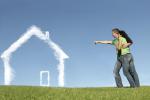 Home prices across the country are slated to rise 3.2% in 2020 with Ottawa, Montreal, and Toronto taking the lead. The increase is due in part to the shift of millennials moving up from condominiums, immigration, as well as the lessening effects of the mortgage stress test say Royal LePage.
Ottawa home prices may spike as much as 5% with the average home price increasing to $547,600 in a market sheltered by government stability and growth in the high-tech sector.
"The oldest peak millennials are now in their 30s," Phil Soper, Royal LePage president and CEO, said in a statement. "With kids in hand and dog on leash, these parents are now eyeing the suburbs that their baby boomer parents so coveted. We predict that the period of disproportionately higher price appreciation in the condo segment is drawing to a close as interest in detached homes is reborn."
To read more from the Financial Post article, click here.
Looking at your mortgage and housing options? Contact your Mortgage Broker today.