CTV Morning Live: Mortgage Minute- June 25, 2019
Date Posted: June 25, 2019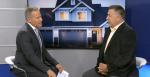 Starting labour day, the Trudeau government has announced the First Time Home Buyers Incentive plan to help ease the cost of home ownership.
To be eligible for the program the purchasers need to be first-time home buyers and have a maximum household income of $120,000. The maximum mortgage amount cannot exceed $480,000. The government will then be willing to continue 5% of the purchase price (10% on new constructions) for those who apply to the program.
This program does require that all mortgages under the program pay the mortgage default insurance regardless of the loan-to-value.
The shared-equity portion of the program remains a gray area. If you sell the home, or 25 years after the original purchase date whichever is sooner, program participants will be required to pay back the interest free loan which is calculated based on the value of the home at that time. There are still gray areas surrounding the program.
There are still details that are set to be released.
To watch the full clip from CTV Morning Live, click here.
For more information, trust your Mortgage Broker for sound advice.