CTV Morning Live: Mortgage Minute- December 3, 2019
Date Posted: December 4, 2019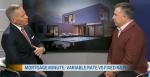 Variable rate mortgages have grown in popularity over the last few years with 44% of Canadians holding this type of mortgage term. Fixed rates, as of today, are lower than a variable rate which may change this statistic.
A variable rate mortgage is based o the prime lending rate less whatever discount you negotiate at the time of signing your mortgage and is considered a 5-year closed mortgage. You can lock in a variable rate mortgage at any time with no penalty.
Watch the full segment from CTV Morning Live here.
Visit our info centre for even more info on the differences between mortgage rates.
Contact your Mortgage Broker today to continue the mortgage rate conversation.