Canadians Moving Out of the Big Cities
Date Posted: January 15, 2021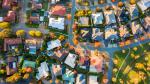 Many Canadians had made the decision to move out of the major urban centres during the 2020 Coronavirus pandemic. This was led by the youth and young families.
Within the countries three largest cities, Toronto, Montreal and Vancouver, there was a jump seen with the number of people living in major urban areas moving to the suburbs, small towns, and rural areas according to Statistics Canada. Between July 2019 and July 2020, a total of 87,444 people left the same three major cities for the less busy side of life. This has been happening more and more over the years but due to the pandemic, this process has increased the trend as more people began working from home. 82% of people making this change were below the age of 45. Due to this changes, there was a clear impact on the housing markets with suburban homes having seen the biggest increase in average sale price year over year.
To read the full BNN Bloomberg article; click here.
Contact your Mortgage Broker for trusted advice