Bank of Canada Rate Increase - January 2023
Date Posted: January 25, 2023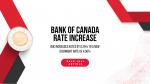 The Rate Increase
As widely expected, BOC has announced a further increase of .25%, for an overnight rate of 4.50%. This is the bank's eighth consecutive increase, and potentially it's last, as the bank has indicated it intends to pause stating "If economic developments evolve broadly in line with the MPR (Monetary Policy Report) outlook, Governing Council expects to hold the policy rate at its current level while it assesses the impact of the cumulative interest rate increase."
A quarter point increase was expected by the market and was already built into the longer-term bond market pricing. The bond market has been declining while remaining optimistic that the central bank would indicate it intends to pause further interest rate hikes, which it effectively has done. This is great for consumers as we see downward pressure on the fixed term interest rates.
What Does This Affect?
The Bank of Canada's target overnight policy rate affects the interest you pay from lenders like banks. The higher the overnight rate, the more interest you'll pay. The increase of 0.25% means that for some variable-rate mortgages more of the money you pay each month will be going to interest rather than the principal while other variable-rate mortgages will see an increase to the monthly payment.
Getting Back on Track
The bank predicts Canada's economy grew by 3.6% in 2022, slightly stronger than was projected in October. Inflation has declined from 8.1% in June to 6.3% in December. Year-over-year measures of core inflation are still around 5%, but 3-month measures of core inflation have come down, suggesting that core inflation has peaked.
If you have questions about your own mortgage, and the best strategy for you, please contact your broker today.
Read The Full Articles Here: